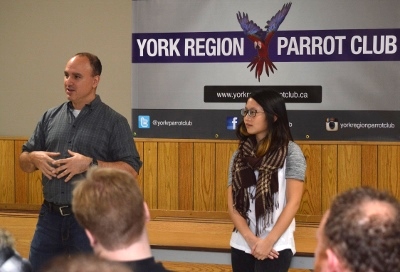 It was a dark and stormy night, but that didn't stop our Dr. Evan Mavromatis from visiting the York Region Parrot Club last night for their October meeting.  Evan was invited to speak at the monthly meeting by club membership chairperson Linda Posner.  Evan brought with him the newest veterinarian to join our clinic team, Dr. Michelle Yee, to meet and speak with veteran and new club members (and their birds!) at the meeting.  In a question and answer-style presentation, Evan and Michelle addressed a variety of topics including avian first aid, wellness testing, dietary concerns and the importance of foraging behaviour.  We would like to thank Linda and all of the members of the York Region Parrot Club for their warm hospitality.  We  are also very grateful for the club t-shirt and the donation the club members made to The Owl Foundation in honour of our clinic.
The York Region Parrot Club meets the third Tuesday of every month. Please check out their web site for more information.

Michelle gets a visit from
Bandit the African Grey parrot
while speaking to the club members.
Maxine the quaker parakeet is enjoying the meeting.