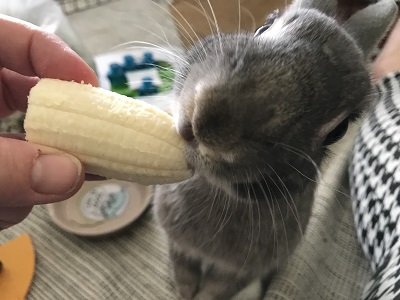 Twitch
Rest In Peace sweet Twitchy. Thank you to the team at The Links for trying to save him. ♥️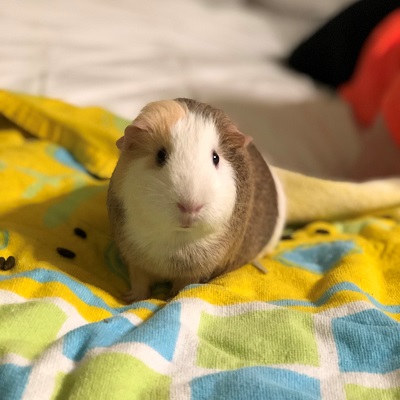 Saysay
We love and miss you every day Saysay. We'll never forget you. We are so grateful you could be with us for so long. ❤️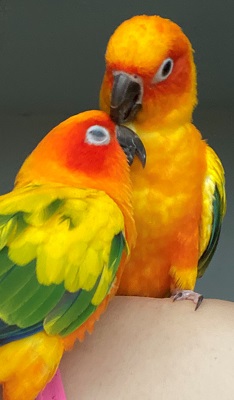 Marley
Marley – we all love ❤️ you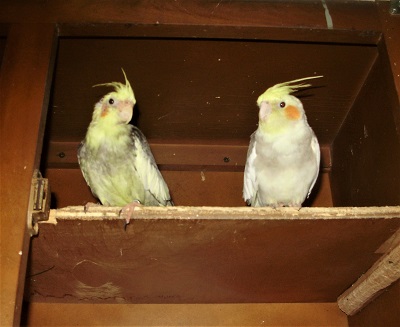 Miss Pretty
Miss Pretty passed away April 27th, 2022, age 17, after several months of health issues that had been monitored regularly at the Clinic. She left behind her beloved and inseparable mate of 16 years, Timmy. Of my 35 or so cockatiels over the years, she was the most beautiful but so dedicated to her mate that she was only minimally friendly with humans and my other cockatiels. I do miss her sweetness. We will all meet again on the Rainbow Bridge. (Miss Pretty on the right, Timmy on the left)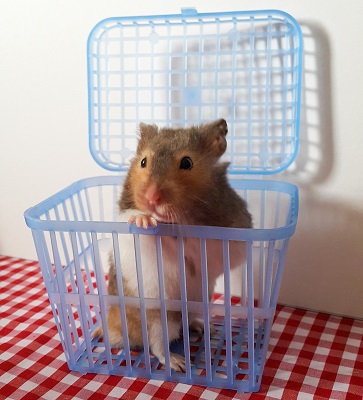 Kodak
Kodak was adopted on Nov 14, 2019 and sadly passed away on Feb 25, 2022. Despite being born 3-legged, he lived a very happy hammy life. He liked climbing on sofas, being tucked into bed, and wrestling his alligator dental chew in the middle of the night. Kodak was a fighter. The strong, little guy even survived a big surgery last year! Rest in paradise, Kodak. We'll miss you! Thank you to the staff for your care and compassion, and a special thank you to Dr. Evan for completing Kodak's surgery.
Nute
When we first met Nute, she was a 3-month-old Indian Ringneck in a downtown pet store. As my husband walked by her — and a literally henpecked cockatiel that she had denuded of head feathers — she demanded that he take her home. She was full of personality and mischief, and part of our lives for almost 30 years. We miss her dearly. We are grateful beyond words to the folks at Links Road Animal Clinic who, though they hadn't seen her for many years, arranged a gentle end to her long life.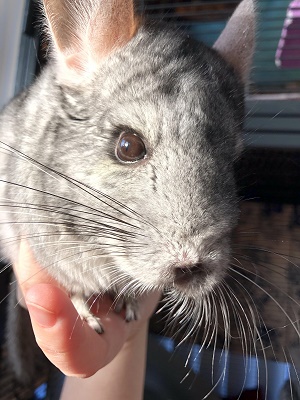 Chiclets
Chiclets was a frequent flyer here at Links, and she met most of the vets and staff! She didn't meet one person there she didn't like. She and I both appreciated the amazing care and affection she was shown with each visit, and I think she loved you all. While we only knew her for two years out of her 16, those two were amazing and filled with love and joy. Thanks to everyone at Links, especially Drs. Nur, Evan, and Rick and Yee for helping me give her the life she deserved.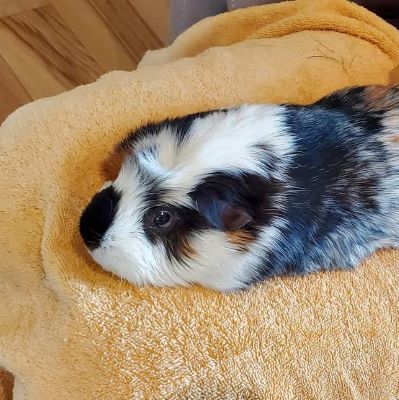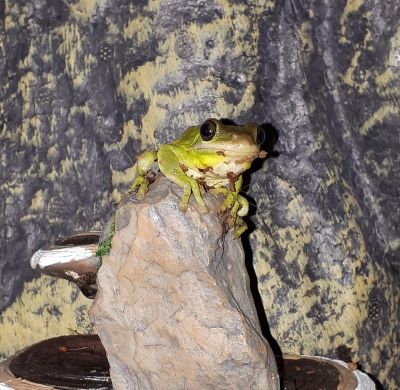 Beep
Beep was the tiniest, babiest, and craziest frog there ever was. He liked to sit in his froggy dish, splat himself onto the glass in your direction when he wanted your attention, and eat crickets. He was very musical and contributed his ribbits to an upcoming project for Buffy Sainte-Marie. Beep was also a very learned frog, and came to all my graduate seminars with me on Zoom and often contributed some very astute and insightful ribbits to the conversation. He will be missed and loved forever.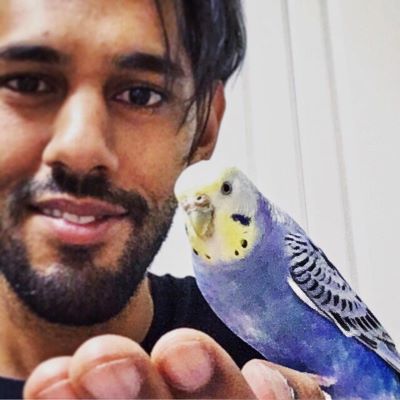 Blue
Thank you for nearly 10 years of joy and cherished memories. After I adopted you, you filled our home with your loud laughter, party spirit and funny antics. You loved to fly around, eat food and perform wrestling moves on your toys. On April 9, 2021 you became ill from a sudden medical condition. After passing peacefully, you are now soaring in the open blue skies with prestige and grace among your birdie friends; all while remaining forever in our hearts. I Love You Blue. Rest In Peace.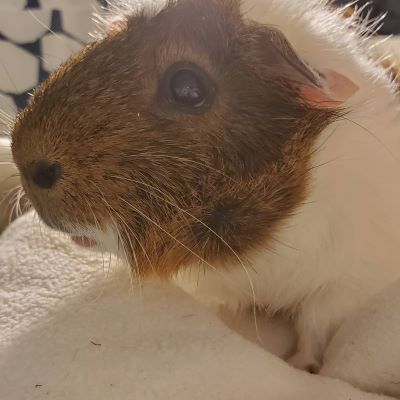 Toad
On March 13, 2021 we suddenly lost our sweet Toad. For such a small guinea pig, she sure left a huge impression in our hearts. She had the biggest personality and was so loving. We will miss your shouts for food, the happy purrs you'd make with head scratches and the way you'd tickle our tears away. We love you forever and wish you could have stayed with us longer.
A huge thank you to the team at Links Road for always taking such good care of Toad.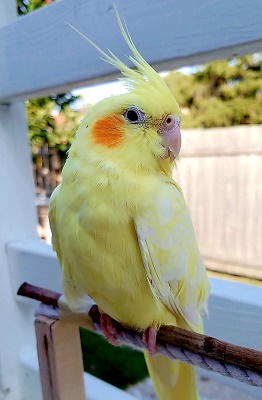 Trail
Trail was rescued from the bike trail, He came into our life on Aug. 1, 2020. Unfortunately, he didn't make it from his surgery on Sept. 29 2020. He spent time with us for a very short time, but we have happy and amazing memories. Thank you TRAIL for bringing happiness to our family, we will miss you🦜 The ambiance of our home will be different without you.😥 YOU'RE AN EXTRAORDINARY family member. We can't explain the pain and agony we're having right now. WE WILL MISS YOU SO MUCH TRAIL. WE LOVE YOU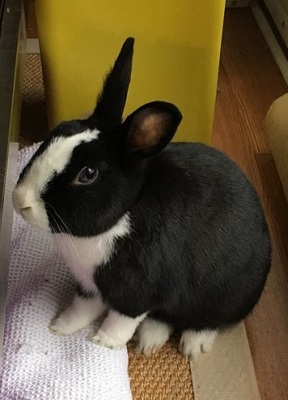 Lucian
In Memory of Lucian, May 6, 2012 – Aug. 11, 2019
Our sweet Lucian left us suddenly one year ago. It was love at first sight and although we already had a rabbit at home, he needed us to rescue him. Despite his sickly early days, he grew into a fine and handsome rabbit thanks to the Links staff followed by loving care at home. He was a shy and mild-mannered bunny, but his sweet and affectionate disposition charmed all who met him. He made our lives better during the short time we knew him. We miss him very much and will never forget him.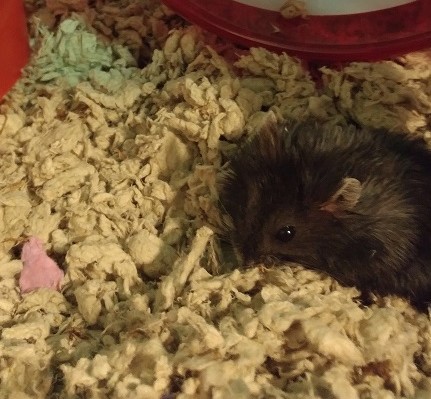 Napoleon
He was 2 months away from his 2nd birthday. The last 2 weeks I could feel he was close to the end. He hasn't been active and much less like himself.
I gave him more attention in the last 2 weeks than I usually did; I thought it would be easier knowing that he was close to the end, rather than my 1st hamster who passed at 9 months of age. It really isn't, especially when I took him out today (03/10/20) and could see his breathing slowly slowing down and passing in my arms.
RIP Napoleon
Cookie
Cookie passed away on February 15 at the age of 8.5. Wasn't sure what to expect when my daughter wanted a rabbit but he became a big part of our family. My daughter potty trained him and he would come running to greet her every time she came home. You could see how happy he was when he got to go outside with our dog.
This picture showed up on my Google pictures the day he passed away taken 3 years ago so I choose this one as he had found his way onto the kitchen table. We all miss you.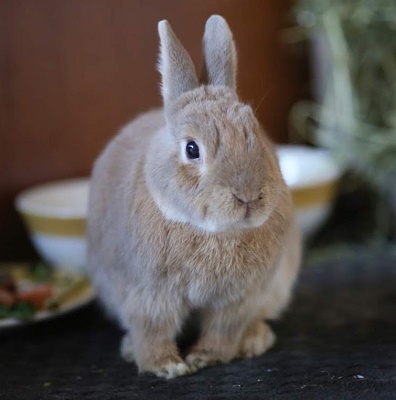 Slick
Our beloved Slick passed away at home on February 6th with his family by his side at almost 7 1/2 years old. He was very sick in his last few days after struggling with chronic snuffles throughout his life. He was a spirited, feisty, protective, caring and treat-loving bunny. He loved snuggling with his brother and enjoyed going outside to explore the neighbourhood. He brought great joy and will be dearly missed by his brother and best friend Cinnamon and his human family. We love you. R.I.P.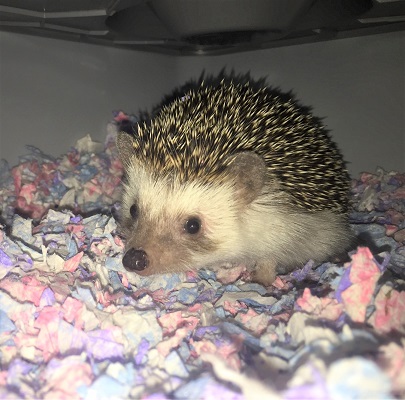 Lo
Lo was a tough little guy, aptly named after a character from Crouching Tiger,Hidden Dragon. Curious, bold and crabby, Lo was a character like no other. I am eternally grateful for the compassion and care that Dr.Yee gave Lo. It is because of Dr.Yee, that I have comfort in grief. My cranky Lolo will be missed by all 3 of his brothers-even his dog brother who once proudly showed off the hissing spiky ball he found when Lo did a Houdini from his cage. Until we meet again at the Rainbow Bridge….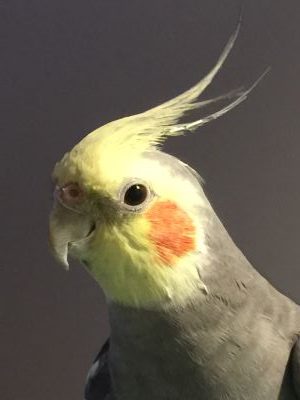 Stinky
Stinky was our baby bird for 21 years. She was full of spunk, mischief and lot's of love ❤️ until the day she died. She was always well taken care of by three very special people from the clinic. She had a love/ hate relationship with Dr. R. Axelson, Dr. E. Mavromatis and Dr. H. Nur. Of course she loved her parents the most; Mark Purtle and Sofie Sommer. WE WILL ALWAYS LOVE YOU AND MISS YOU ❤️ RIP August 20,1998 to April 16, 2019.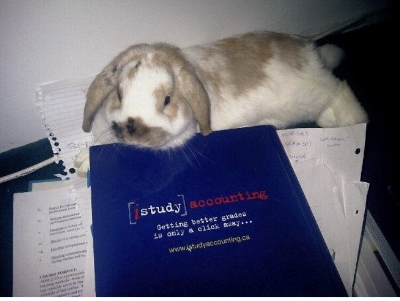 Mango
After 9.5 beautiful years with Mango, 08.16.18 was his last day. To all my fellow pet lovers, give your pets an extra squeeze today. Rest In Peace Mango ♥♥♥♥♥♥♥♥♥♥ My traveling partner, my study buddy, my party co-host, we love you so much!
Fanki
My friend, my love, our family member, the kindest and smartest and loving pet I ever had. I will always remember and carry in my heart. Thank you for the wonderful 3 years. Sleep, baby rat. You look at me from all the pictures and drawings on our walls. You make me smile.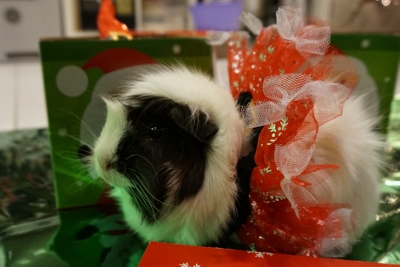 Cotton
Cotton was a feisty yet patient soul, with a love for eating anything, especially hay. She loved "food time" so much that whenever she heard sounds and footsteps in the kitchen, or walking up the stairs, she would jump on top of her log house and stand there patiently staring in the direction of the sound. Cotton has been reunited with her sister Cocoa on the Rainbow Bridge. She will forever hold a place in our hearts.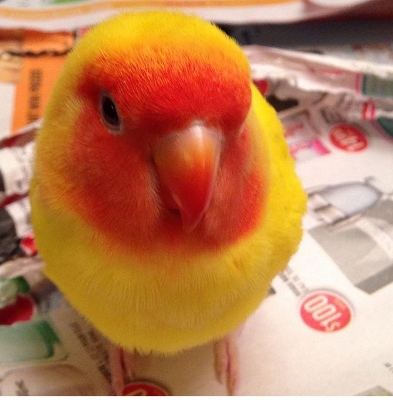 Soleil
After 16 wonderful years, we lost our beautiful Soleil (affectionately known as "Deed").
With bold colours and a personality to match, Deed stole the show every day of her life. She was sassy, curious, spoiled, and loving, and brought so much joy into our lives. Words can't describe how special she was and life is less vibrant without her. Special thanks to Dr. Nur for her care and compassion throughout the years – we couldn't be more grateful.
Rest in peace sweet girl – miss you forever xox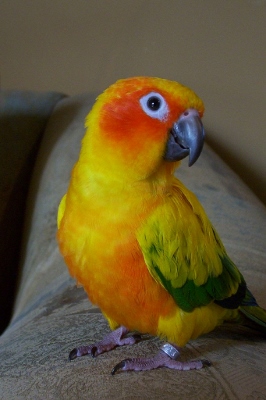 Jessie
Jessie at 6 months joined our family! She left a lasting memory on everyone she met.
Sweet, cuddly, playful & smart. She enjoyed coming to work, loved the cottage & chilling in her favorite tree. She loved a shower & blow dry, peekaboo, cuddling in the sheets/down your shirt & just being together. Jessie brought so much happiness to our lives. At 14 years she suddenly became sick and died that day. Our hearts broke.
We love you Jessie and miss you very much. You will always be our baby girl xo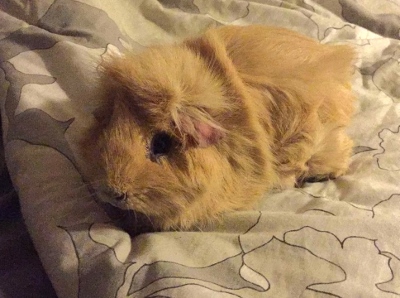 Monica
Even though I only had a chance to be with you for a few years, you meant the world to me. Although you'll be greatly missed I can finally rest assure that you are no longer suffering . My piggy is now at peace, I'll never forget you Monica. A special thanks to Doctors Rick and Evan for the countless support and reassurance.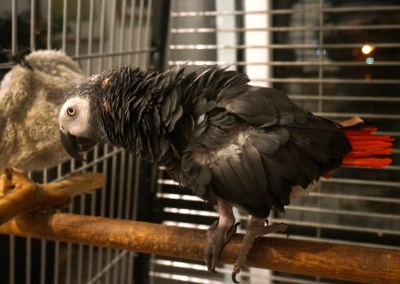 Joey
RIP Joey. After 50 years of ruling our lives, Joey died today. He came round long enough to tell us one last time that he is a good boy and muttering, "Kiss, kiss".  It will take a long time to get used to not having him around, especially as he always knew when it was time to wake up, eat lunch and dinner, and when it was time for him to go to bed.
He was a real character and made us laugh a lot, and was also sometimes quite challenging. He will be greatly missed. Many thanks to Rick Axelson.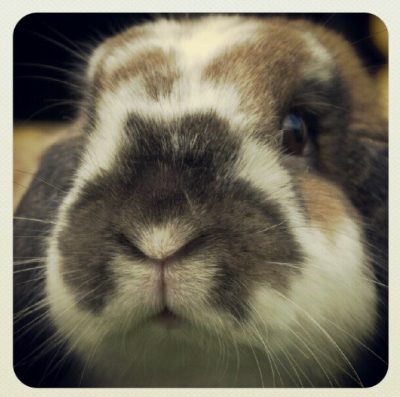 Maslena (Masleona)
She passed away on October 9th 2016 in my arms. Was very sick. I still remember her last terrible seconds. She was a rescued rabbit from ospca. Her previous owner gave her name Tickle-tickle. I renamed her as she started her new life without the cage, fresh veggies and farm hay and a lot of love. We were together for 9 years. Went through a lot of things. But she could not go through the last one.
I buried her on our friends farm so I can visit her.
Will always remember her.
Merlin Aurelius the squirrel
My dear merlin, aged 28.5 years old passed away on January 26, 2017. He was my heart, my love and will be very sadly missed. He could not fly due to some ingrown feathers for some 10 or more years. He is now free to wander the skies. merlin was an amazing singer and the most stoic of all creatures I have ever know. Many thanks to Dr Evan for caring and helping for him over the years.
He is now free, soaring free. And will never be forgotten. I love you my most precious one. julia xxx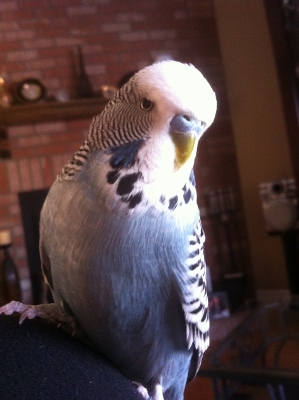 Tango
Our lovely singer, TANGO, passed away Wednesday, January 18th peacefully at home in our hands, as he was an active, playful and loving bird until a few days ago when he started showing signs of slowing down. He was 11 years old and lived a great life with us. We will miss him as now our home is too quiet without his chirping, whistling and talking. We love you Tango, rest in peace!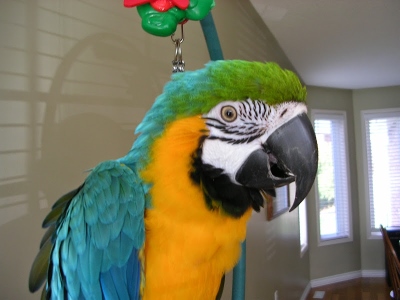 Tica
Taken from us at the young age of only 18, by cancer, Tica was with us for over 18 years, and we miss her terribly … we'll never forget you Tica, may you rest in peace …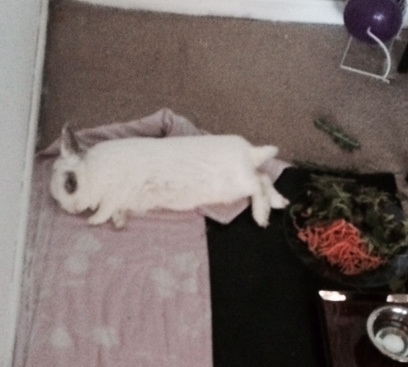 Tinsel
Dear Rick and Staff:
We thank you very much for all your wonderful support since May 2015. We miss Tinsel tremendously, always running around your feet, eager to play at any hour of the day or night. We knew him for eight and a quarter fabulous years. He could not have lived so long without your expertise and care. Thank you again Rick. Thank you for taking the trouble to call and ease our aching hearts. Tinsel was a family member and was loved as such and returned that love. May God Bless you.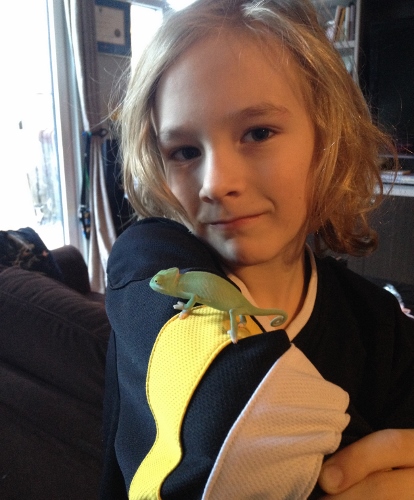 Chuck
Sweet Little Chuck the chameleon.
I miss you so much already. It was so fun to watch you catch crickets and take you out for some time in the sun! You had a short life filled with fun and love. Mommy still tells me stories at night about "The Adventures of Chuck the Chameleon." I will always remember you.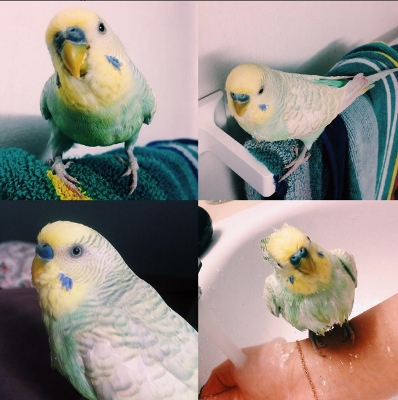 Lady
My gorgeous, beloved precious bird Lady lived a life full of vigour. He had been struggling for the past 2 weeks and is finally at peace. He was 4 years old and gave me unimaginable joy. I was so proud to be his bird mommy. Lady, you made me and so many other people happy. You loved to talk and had extensive vocabulary, were active and playful, gorgeous to boot, super social and best of all you loved me in return. I will miss your cuddles and getting to kiss you. You will never be forgotten.
Cocoa
My gorgeous, beloved precious bird Lady lived a life full of vigour. He had been struggling for the past 2 weeks and is finally at peace. He was 4 years old and gave me unimaginable joy. I was so proud to be his bird mommy. Lady, you made me and so many other people happy. You loved to talk and had extensive vocabulary, were active and playful, gorgeous to boot, super social and best of all you loved me in return. I will miss your cuddles and getting to kiss you. You will never be forgotten.
Cocoa was a kind-spirited soul with a love for everything, especially any fresh treat imaginable. Her favourite treats were strings of broccoli that she shared with sister Cotton "Lady and the Tramp" style. She led the "squeaking chorus" with her sister whenever she heard sounds and footsteps in the kitchen, walking up the stairs, or coming in the front door. Cotton will surely miss her, running their daily laps and "pop-corning" around their cage. Cocoa will forever hold a place in our hearts.
Marj
My little Marj – almost a year since I lost you – I miss you every day – you were my best little friend and protector and made my life complete. I had you for a pretty good long time, but never long enough. I will love you all of my life and I will see you again one day!
Love, 
your mama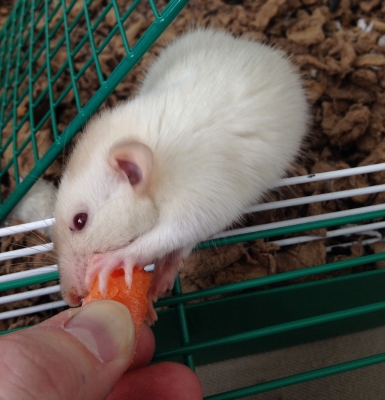 Audrey
Dear Audrey,
You were the most foreboding little critter who could hold your own against a sister twice your size when she played with you. You were always ready for cuddles and were adorable in your zeal for carrots. We're so happy to have been a part of your short life and to have let you make our family that much better. May you be in a place with infinite carrots and hugs.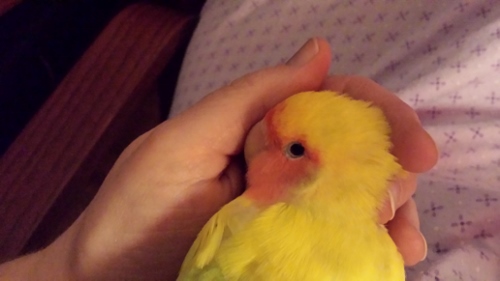 Tiki
My Dear Loving Tiki,
Passed away on March 11, 2016 at 17 years of age.
You will be missed so much.
How can I ever fill the hole in my heart and in my life that has been left. You were never a pet, you were my family. I'll miss playing peek-a-boo with you, your kisses & cuddles, how you would fall asleep on my chest or in my hand while watching TV….
I will Always Love You,
Mommy Paula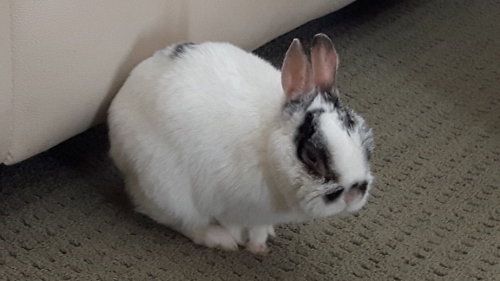 Spot
Our little bundle of joy Spot went to sleep for the last time on the evening of March 14, 2016. He lived a wonderful life and we miss him terribly, but he will always be with us.
R.I.P. Spot  2008-2016.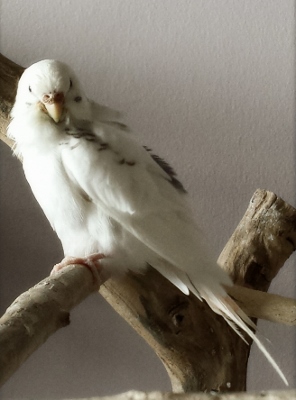 Nutmeg
My dearest Nutmeg, you were the best little parakeet (aka. Velociraptor) that a human could ever have. You were full of moxie and independence, yet loved being with me when we had play time. When you became ill you still carried through as best as you could. Your love for your mate, Zucchini and four other flock mates including your humans had no bounds. You brought life and love to all of us. We will miss you so much. A special "thank you" to Dr. Axelson and staff for your care.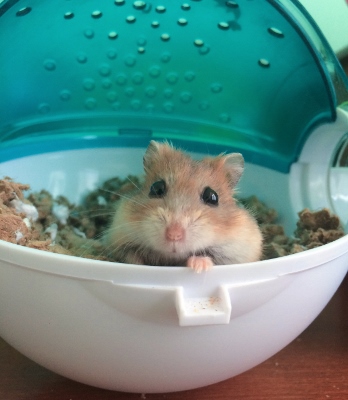 Mitsy
Mitsy was a sweet little hamster and her family loved her very much. All through her little life she was loyal to me, Maya, and had a nip for everyone else. I gained her trust and had to do the best thing for her in the end. Mitsy will always hold a very special place in my heart. Love you Mitsy.
-Maya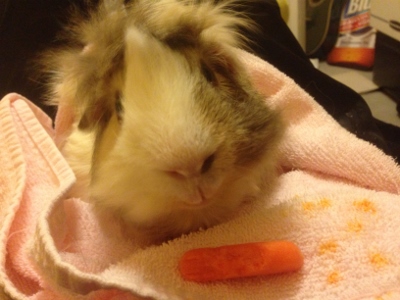 Bob Dylan
Bye-bye our little Bob Dylan. You did such a great job and taught us so much about the power of resilience and a positive attitude. Your zest for life was so beautiful to behold. We are all so proud of you. Everyone loves you. Have fun with Burton up in heaven. We'll see you on the other side.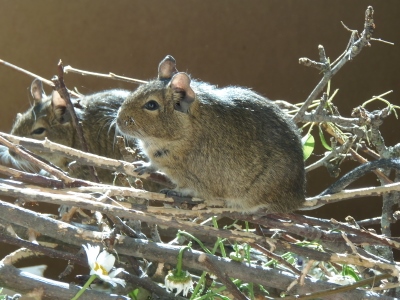 Ruby
Innocent, gentle, trusting Ruby loved life & her natural diet, especially Radicchio lettuce, Timothy Hay, dried vegetables. Intrigued, she'd watch Pamela run on an exercise wheel then suddenly discovered this joy one night; loved to run through cardboard/bamboo tubes; greeted Pamela with affectionate gurgling chirps before they groomed each other; loved redecorating -moving branches & clearing paths through Timothy Hay & dried flowers. We miss you Ruby. Enjoy a digging box over the degu rainbow.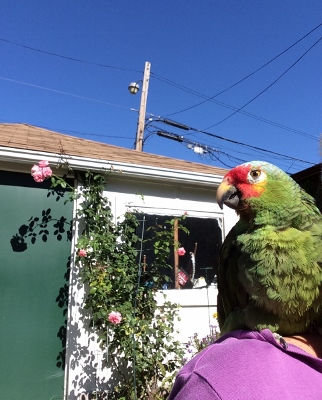 Shirley
She was with me for many years. Rick, his dad and staff suffered through her squeaking and loud noises but loved her. She was my non human half. She loved me and listened to me natter all day. Shirley you were very special and I will miss you deeply.
Tweety
Tweety, you were the best and my favourite budgie ever. I'll miss your singing and your curiosity. Rest in peace, Tweety.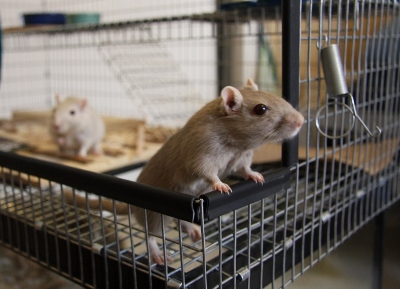 Maximus Decimus Meridus
I am so fortunate to have had you in my life. You had such a big personality, and were full of attitude. You knew exactly what you wanted and achieved it most of the time. Yet you were very affectionate, loving to snuggle with your brother, Quintus, and cuddling with me when you got older. You were confident, clever, funny, and exasperating; you never lost your drive for life, even when health issues made things so difficult for you. I will never forget you: my mouse, my gerbil, my love.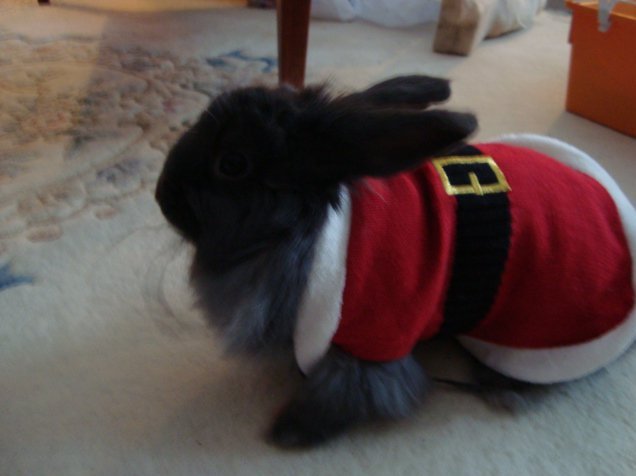 Malibu
Malibu brought an unparalleled amount of joy to our lives. He was so much fun to be around and will always remain in our hearts. We miss him dearly!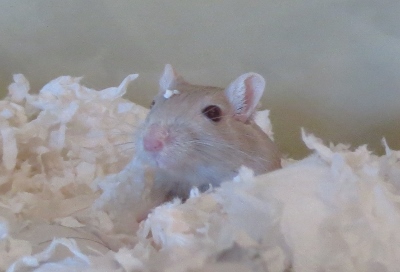 Ion
October 2014-March 2015
My little doll. I loved watching how much you enjoyed everything in life, from the first time you got to dig in deep bedding, to chewing stir sticks and eating treats. You were such a sweetheart, giving me kisses and making me laugh. You were also adventurous and agile, doing 'gerbil-parkour' on the couch. You were only with me for a short time, but I'm glad I got to know you and happy you were able to have cuddles with Kit. I miss you lots.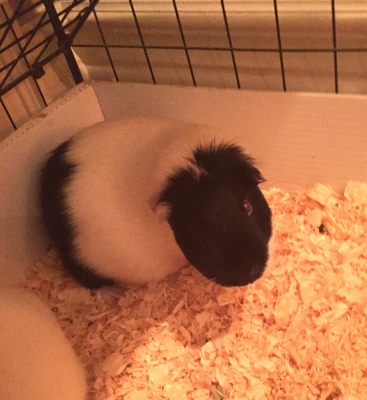 Oreo
Oreo was a very sweet and loving guinea pig we rescued from Piggles Rescue. She was a companion to Praline and she was blind in one eye. My daughter Laila loved her very much and took good care of her. We miss her sweet self and we hope she is happy up in heaven.
Praline liked taking her food, but Laila always made sure she had some!
Since she was blind in one eye Oreo couldn't see the bowl properly that's also why she couldn't find the food, but she was very sweet and caring to us!(: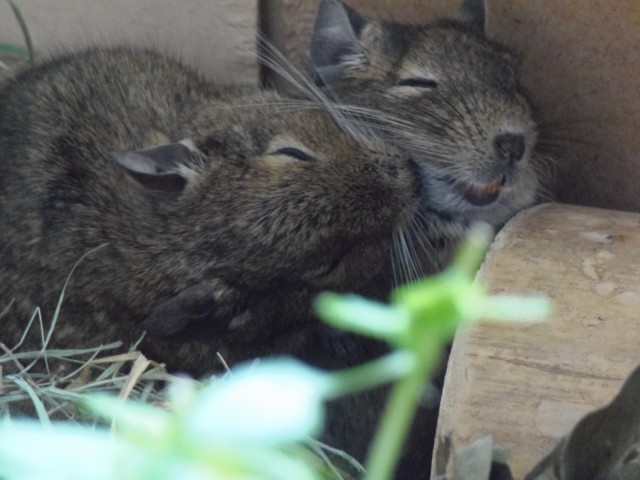 Angela
January 2015
Angela was the sweetest degu on Earth.  She came from a loving home and I first met her when she was the first to run out from a baby degu ball to greet me.  It was love at first sight.  I knew she was the right one for me and to keep Pamela safe and warm.  
Angela and Pamela did not require a formal introduction process.  It was a match made in heaven. No matter how much Angela squealed and stole (nuts) from Pamela, Pamela was always there for her.  Right to the end.  Angela made her last breath while cuddling with Pamela in a warm, soft blanket.
We will both miss you Angela and your always happy orange smile.  Hopefully you will continue to be Pamela's guardian Angel.
Mr. Bunny
Dec. 2000 – Jan. 2015
RIP my sweet little buns. It was heartbreaking to hold you in my arms for the last time but you are in a better place now. You had some much love in one little package and taught me so much about unconditional love. I will miss you and you will always have a place in my heart. Love you forever and always. ❤️❤️❤️❤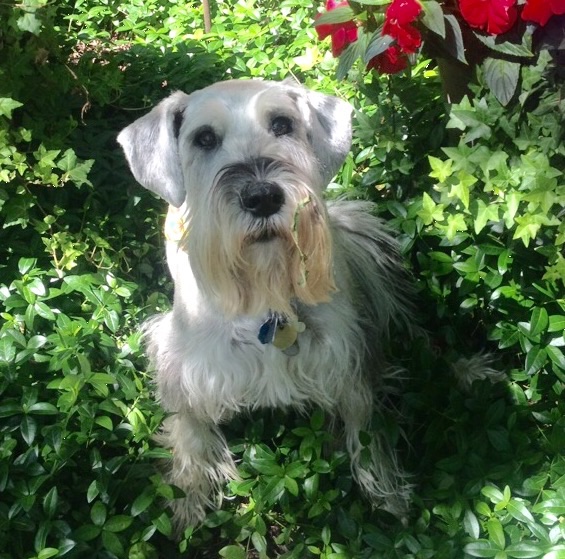 Reggie
November 16, 2002 – December 5, 2014
Reggie was everything a dog and a family pet should be. She was loyal and protective, fiercely intelligent, friendly and above all sweet.  She had a human brain and  took care of us just as much as we took care of her. She was chasing squirrels right until the end and left us peacefully. We will miss her very much.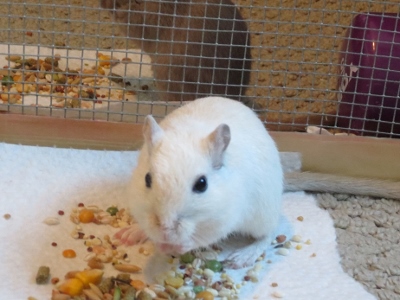 Jumble
May 2012 – Nov 2014
I am so grateful to Jumble for coming to live with us to keep Max company after Quint passed away. He was such a lovely and friendly little guy. He would come running to the topper whenever he heard our voices, and liked to sit on his little shelf and watch TV with us in the evenings. He liked the 'good life,' enjoying playtime, treats, and naps. Although he was only with us for a short time, he was still 'our gerbil' and we miss him very much.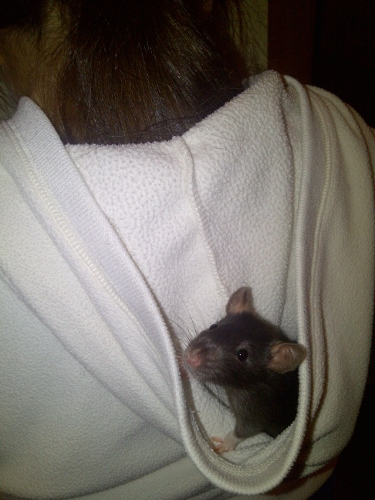 Lola Duffy
September 2nd, 2012 – August 4th, 2014
Lola passed away peacefully on August 4th. She had suffered from a tumour and had pneumonia for months. She was doing better for a while and   only visibly suffered for 2 days before her passing. She was a great rat and friend. We love and miss you Lola.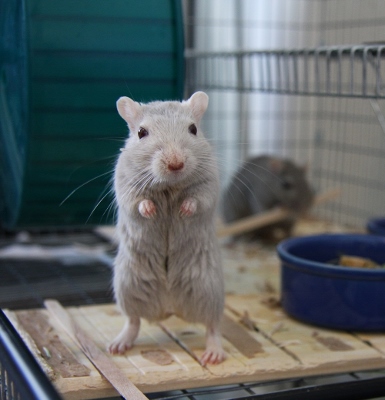 Quintus Dias
Aug 2011 – July 2014
Quintus Dias was my little sweetheart. He came when he was called and sat on my lap to say hello. He loved food, and 'the morning raisin' was his favourite time of day. He was curious, cute, naughty and friendly. Not as bold as his brother Maximus, he still managed to get into plenty of trouble- climbing into the garbage or eating my headphones at every opportunity. Mostly he loved to run on his wheel and explore at playtime. He will always have a place in my heart.
Mango
You came in a small package but added so much joy to our life. We will miss you!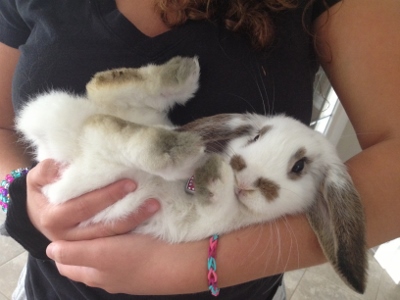 Rex A.K.A Moose
You were the best rabbit in the world and my best friend. It's so sad that you were taken away so early.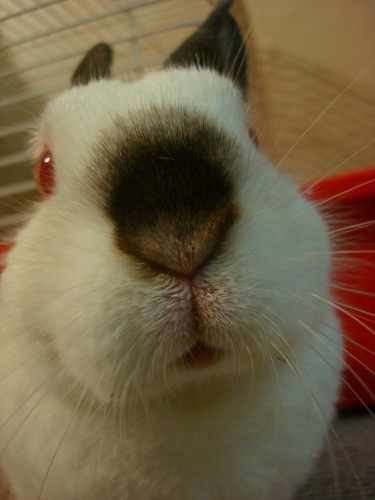 Fufu
My one and only precious little Fufu, you will always be missed.
Love you forever and always.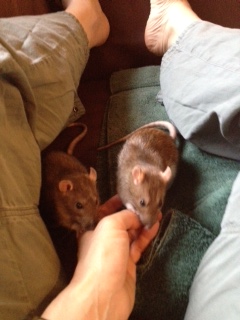 Cali and Gracie
Cali and Gracie were both wonderful rats. They made me smile each day I played with them. I used to make a play place for them on the table everyday – with boxes, toys and of course, food! I loved them so much, and I am SO sad that they had to be put down due to respiratory diseases (Gracie) and tumours (Cali). It has been a wild ride and I just wish I would've spent more time with them. They were the best rats ever and I could NEVER forget them.
Drako
Drako was a great pet and my best friend. I had him for 12 years since I was very young and he will be dearly missed. I don't remember what it was like before you came around. I wish I had stopped and appreciated you more than I did, I know you deserved it. It wasn't an easy road for you at times, but you toughed out any problems that came your way for 12 long years that I enjoyed having you. I know you're in a better place free of pain now. I love you. RIP Drako.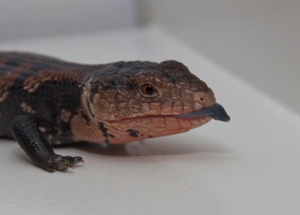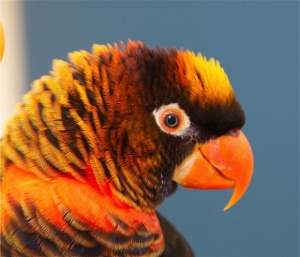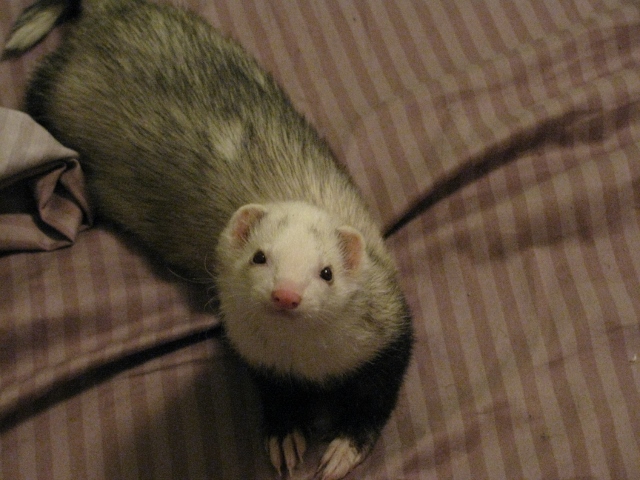 Myfanwy
Dearest Myfanwy passed away peacefully in loving arms at 9:08 a.m. on February 2nd, 2014. She will always be remembered for her dancing, her chirping and her love of fun. She loved nothing more than to run free and chase cats (who usually out-witted her — barely!). Miss Pants, we could never give you enough love, because however much we gave, you deserved still more. You will always be with us. KZ & RZ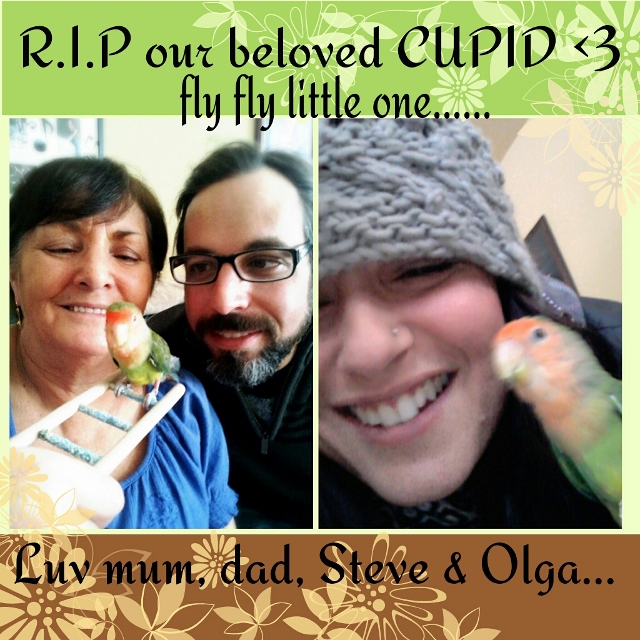 Cupid
I found you in a pet store in Ottawa….and we were blessed to have u enrich our lives for 14yrs. You lived a long and happy life as a part of our family, and we will miss all the wonderful and funny moments we all shared with you. You were an awesome bird with tons of personality and always communicated your unconditional love for us every chance u got, and we thank you for that. We miss you so much Cupid…fly fly little one in the heavens where you are free from pain & suffering. xoxoxo.
Conan
Our beloved Conan passed away peacefully surrounded by those who loved him at the age of 23 and will be greatly missed. He will be remembered as an important member of our family and one of the toughest. We love you.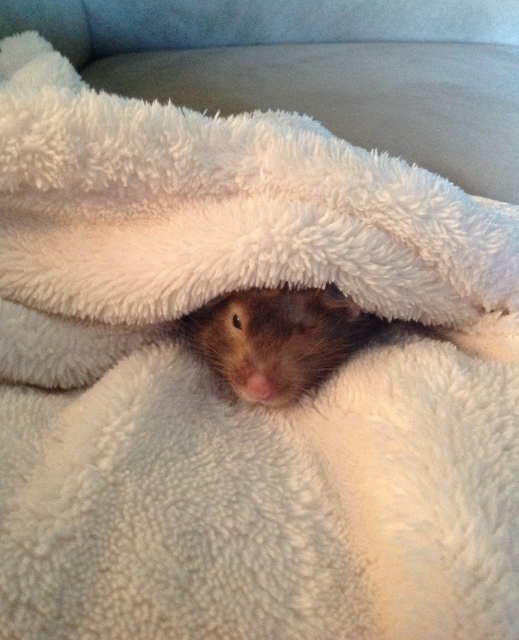 Miko
After 3.5 wonderful years Miko passed away in January 2014. She was a rescue hamster who brought all of us great joy and happiness. She was a kind and gentle one-eyed hamster who will be missed by everyone and will always be in our hearts. We love you Miko.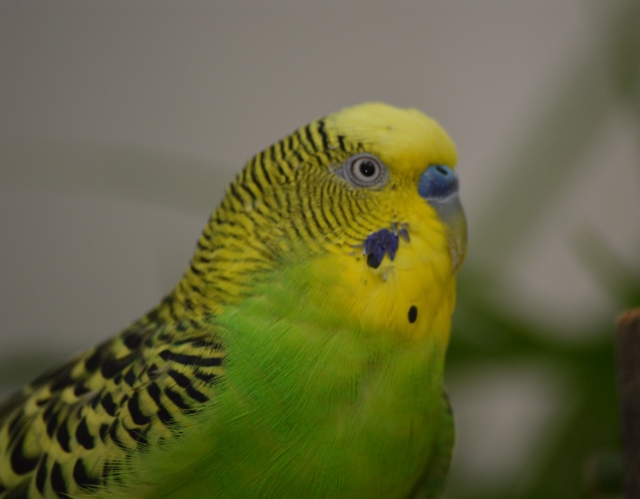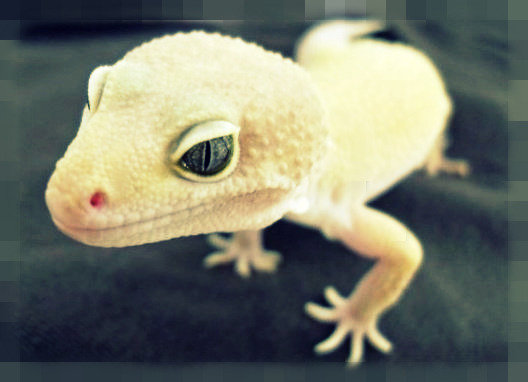 Yoshii
After a long fight with illness, Yoshii sadly passed away before before we could finish his treatment. Many thanks and praise to Dr. Axelson, Dr. Nur and their fantastic team for the help and support through this sad and stressful time. Yoshii will be missed 🙁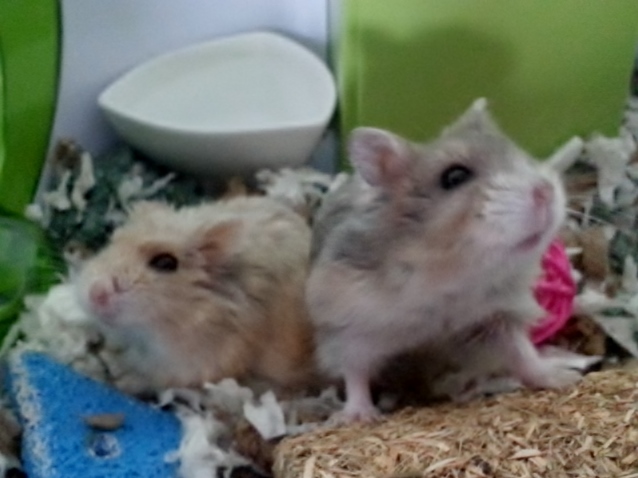 Luigi & Guido
When we adopted Luigi and Guido from the Toronto Humane Society, they were both over two-years-old. Everybody said they would live only two to three more months but surprisingly, they were with us for almost six months. We fell in love with them and it was a blessing to have such small creatures teach us love, compassion, and respect until the last minutes of their lives. Luigi passed away first and two weeks later Guido joined him. We miss them… having them with us confirmed it's never too late to give and to receive love.
Stomper
Taken from me at the young age of 21 by cancer, she was, is and will forever be my best friend. I miss you so very much.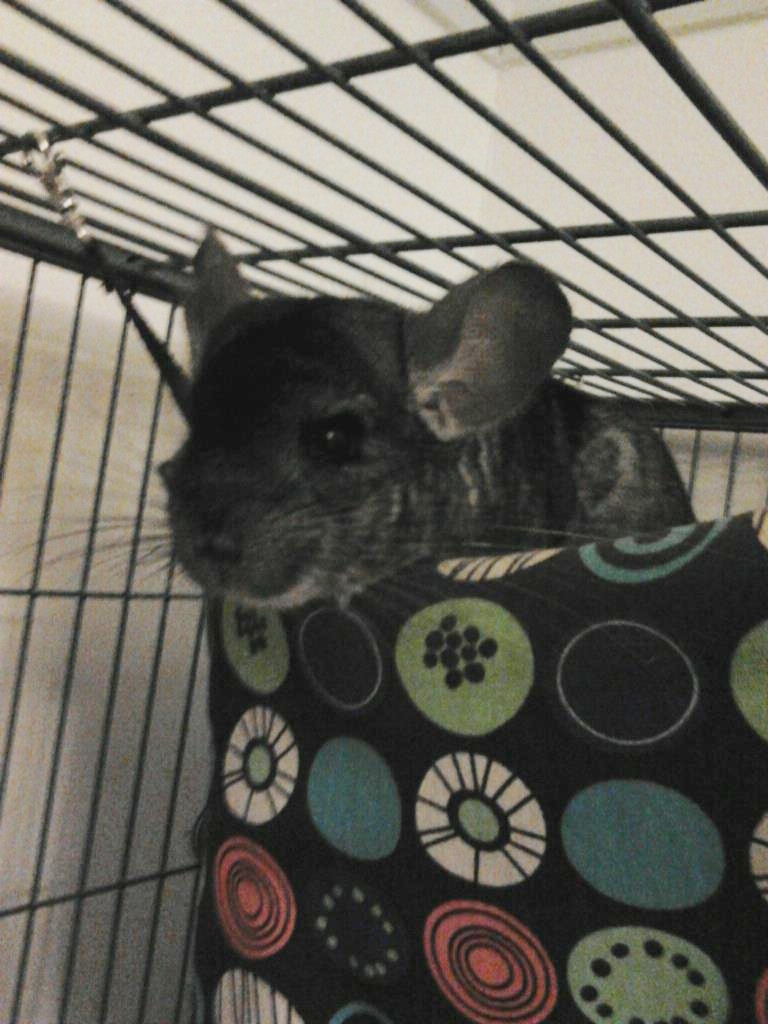 Chili II
In loving memory of Chili II, the feistiest, strongest little guy we've ever had the pleasure of knowing and loving. You were a fighter to the end and brought so much love into our lives. We miss you Chili II buddy, so much, and your paw prints will never leave our hearts.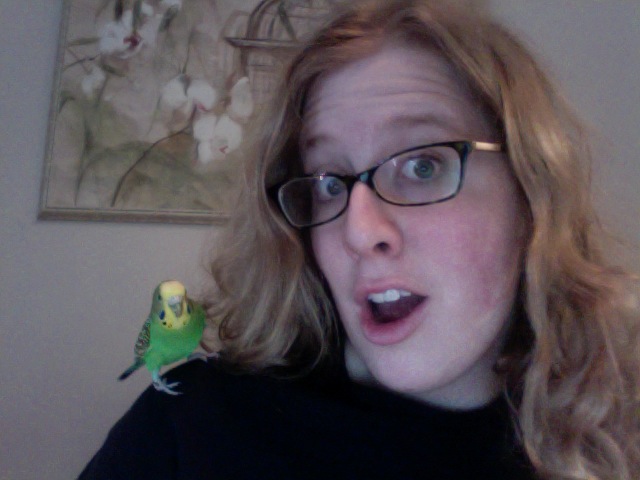 In "tweet" memories of our precious Bijoux.