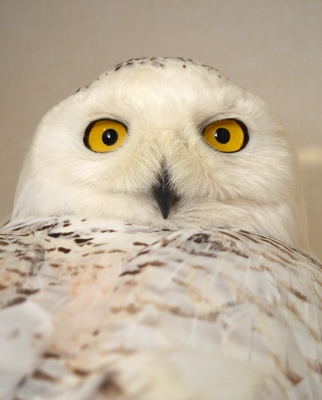 We are so pleased to report that a snowy owl, on whom our Dr. Evan Mavromatis performed a surgery on in April of this year, has been released back into the wild! The owl was being cared for and rehabilitated by The Owl Foundation until volunteers at Pilot N Paws Canada brought him to northern Ontario to facilitate his release this past weekend. The Owl Foundation has written a beautiful account of the owl's journey to recovery:
Gerd Wengler and co-pilot Al Robinson of Pilots N Paws flew this Snowy Owl to the Moosonee airport from Burlington airport (10 hour round trip) last weekend.

The Snowy Owl was admitted to The Owl Foundation on March 22, 2014 with a humeral fracture to the left wing. It was surgically repaired by Dr Yates on March 19th prior to being admitted. A second surgery was required since healing was not going well. April 1st Dr. Evan Mavromatis performed the second surgery changing the internal pin diameter and adding a fixator device to stabilize the bones.

By June, the had bone healed successfully, and the stabilizing device removed. The next step was to deal with the muscle healing and rebuilding!

Slowly we moved the Snowy from a small space to larger and larger habitats to gradually build up stamina and strength. By September he was ready for the large flight enclosure and finally released on October 18th!

Denice Bustraen and others from Moosonee SPCA provided the ground transportation for Gerd and Al to bring the owl from the airport to a more appropriate release location.

The Owl Foundation would like to offer a HUGE Thanks to the people at Pilots N Paws Canada for connecting us to such great volunteers!!! Their time, effort and covering the expense of getting him there is greatly appreciated!
The Owl Foundation is a charitable organization that helps injured and orphaned owls get to a point where they can survive on their own in the wild. Our veterinarians and staff volunteer their expertise and surgical services for The Owl Foundation.
Pilots N Paws Canada is also a charitable organization run by volunteers who donate their skills to provide free air transportation to help injured, abused and abandoned animals at rescues and shelters across Canada.