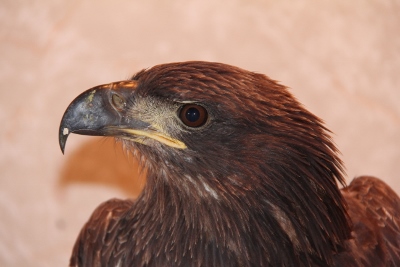 It's not every day that there's a bald eagle at The Links Road Animal & Bird Clinic. But we did have one at our clinic recently. He was badly injured and needed our help.
The Owl Foundation admitted a juvenile bald eagle in mid-September from the New Liskeard area of northeastern Ontario.  He was suffering from a broken wing.  It was an injury sustained in a suspected collision.  The eagle was transferred from northeastern Ontario to the Owl Foundation in Ontario's

Niagara Peninsula

for care and was brought to our clinic for surgery.
| | |
| --- | --- |
| | After assessing the extent of this bird's injuries, the wing bone was found to be fractured in a very awkward location close to the shoulder, making surgical correction quite challenging.  Despite that, and taking into account the excellent body condition of this eagle and his young age which would make adapting to this injury easier, it was decided to give this bird the best chance possible and attempt a surgery to correct this break.  Our Dr. Evan Mavromatis took on the challenge and after a lengthy surgery, the bone was successfully stabilized.  The bald eagle is now recovering back at the Owl Foundation facility.  The dedicated Owl Foundation staff will rehabilitate him with the goal of releasing him back into the wild. |
The Owl Foundation is a charitable organization that helps rehabilitate injured and orphaned owls and occasionally other raptors so they can be released back into the wild where they can survive on their own.  Our veterinarians and staff volunteer their expertise and surgical services for The Owl Foundation.
Please click here to find out more about The Owl Foundation and how you can help.