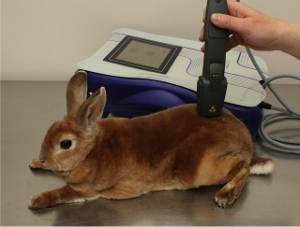 It's an exciting week at The Links Road Animal & Bird Clinic as we are now offering state-of-the-art therapeutic laser therapy for your pets!  MLS Laser Therapy can treat a wide variety of chronic and acute conditions ranging from arthritis to injuries.
Some of the many specific conditions we can treat with this laser therapy include tooth root pain in rabbits and rodents, self-mutilation wounds in birds, chronic ear problems, certain nerve disorders and limb lameness, to name but a few.  We will also be providing laser therapy as an option to promote faster healing of surgical incisions.
MLS Laser Therapy is a safe non-surgical procedure with no side effects. It does not generate any heat so there is no chance of burns or tissue damage. The entire procedure takes a matter of minutes and can be done while you wait and your pet doesn't need to be sedated or anesthetized. Please check out our therapeutic laser treatment page for more information and feel free to ask our doctors and staff if your pet can benefit from this procedure.