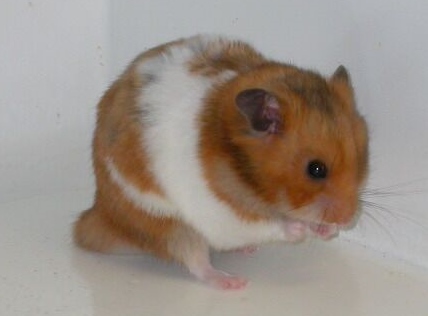 The hamsters wanted some extra time as our Animal of the Month for December so we're ending their run in the spotlight as 2015 gets underway.  We hope you enjoyed the our Animal of the Month tweets throughout the holiday season.  Here is a summary of our tweets about hamsters if you haven't yet started following us on Twitter @ExoticPetVets. Did you know?:
Hamsters are rodents and there are many different species, but only five are commonly kept as pets.
The Syrian or Golden hamster (Mesocricetus auratus) is the most popular of the hamster species that are kept as pets.
Syrian hamsters were discovered by British zoologist George Waterhouse in 1839 near Allepo, Syria.
Despite being discovered in 1839, the Syrian hamster wasn't first domesticated until the 1930's.
Hamsters are crepuscular, which means they are most active at dusk and dawn.
In the wild, hamsters hide from predators during the day in underground burrows.
Avoid disturbing hamsters when they sleep during the day. It can make them grumpy and promote unfriendly behaviour.
Hamsters generally make good family pets, but they are the most aggressive "pocket pet" and bite most often.
Young children should never be left alone with hamsters unsupervised.
In general, hamsters should be kept in separate cages except for dwarf hamsters who can live in together in pairs.
Hamsters are excellent chewers, which means they are excellent escape artists.
A hamster's enclosure should give him lots of room to burrow and exercise. The bigger the better!
An exercise wheel, small house and a variety of toys will help keep your hamster's enclosure fun and interesting.
Hamsters are omnivorous, meaning they eat both plant and animal material.
Hamsters need a diet that includes pellets, fruits and veggies. They should never be fed only seeds as they're prone to obesity.
Hamsters have large cheek pouches which they can fill with food.
Hamsters are clean animals and most of them will use one corner of their enclosure as their toilet.
You can train a hamster to use a hamster-sized litter box, available at many pet stores, by putting soiled litter in it.
Hamsters have a hip or flank gland on their side which looks like a mole. Often, this gland is mistaken for a tumour.
This hip or flank gland is less developed in female hamsters.
Hamsters have been well represented in popular culture, including in movies, TV shows and Internet videos.
Since 1996, there has been an ongoing "Hamster for President" campaign in the U.S.