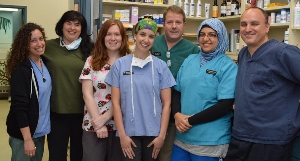 Saying goodbye is never easy. And while we congratulate our own Dr. Gillian Park on her new career opportunity at a veterinary clinic in Mississauga, we are sad to see her leave us. Gill joined us in June 2011 after graduating from the Ontario Veterinary College in Guelph to fill a maternity leave for Dr. Hanadie Nur. During her time with us, we have seen her professional skills and confidence grow.
Gill would like to share her own reflections on her time at The Links Road Animal & Bird Clinic:
"The last two years at The Links Road have seemed to have flown by. Through the help and support of The Links Road staff I have gained lots of knowledge and experience in this time. I feel very privileged to have had the opportunity to work with such a wide variety of exotic animals. From beak and nails on large parrots like macaws to blood sampling on budgies, I have picked up invaluable skills. I have thoroughly enjoyed my first job as a veterinarian and will greatly miss my first clinic family. Finally, I will miss all of the amazing clients and animals I have had the pleasure of working with — you have made my job so rewarding. All of the best in the future!"
– Dr. Gillian Park
Gill, all of us at The Links Road Animal & Bird Clinic want to thank you for your dedication and hard work over the past two years. It was a pleasure watching you grow professionally and we wish you nothing but success in your future endeavours.