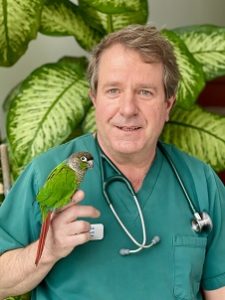 Rick Axelson, DVM
Veterinarian/Owner
Dr. Rick Axelson graduated from the Ontario Veterinary College in 1987. He apprenticed with his father, Dr. Dean Axelson, founder of The Links Road Animal & Bird Clinic (1973) until he purchased the hospital in January 1996. Rick grew up in Toronto and still lives in north Toronto with his daughter and cat. He has been surrounded by animals of all shapes and sizes his entire life but has a special passion for birds and exotic species. He is a member of the College of Ontario Veterinarians, Canadian Veterinary Medical Association (CVMA), Ontario Veterinary Medical Association (OVMA), Association of Avian Veterinarians (AAV), Association of Exotic Mammal Veterinarians (AEMV) and Association of Reptilian and Amphibian Veterinarians (ARAV).
Rick has lectured to veterinarians, veterinary technicians, the Ontario Veterinary College, local parrot clubs and numerous community groups. He has appeared on local and national television and radio shows. He is the author of a veterinary education handout series for birds and exotic pets for Lifelearn Inc.
Rick passionately enjoys photography and has a camera with him most everywhere he goes. He is an avid bird watcher, hiker and loves to spend time gardening in the backyard. Fitness and being outdoors is a must.