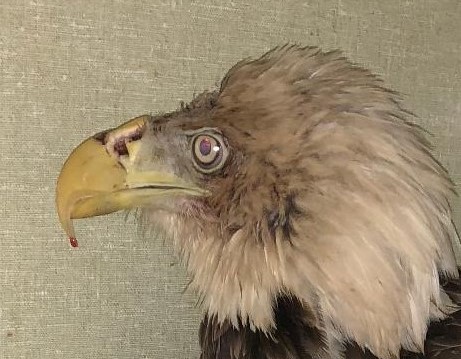 Strength, might and majesty. Those are some of the words that may come to mind when describing a bald eagle. But, like all living creatures, bald eagles can and do get injured.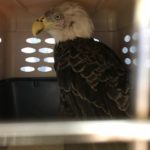 A rescue in northern Ontario brought a badly injured bald eagle to The Owl Foundation. The eagle was suffering from injuries to his face and skull. It is suspected that the injured eagle was attacked by another bald eagle in the wild. The Owl Foundation contacted our clinic and together we came up with a plan for treating the eagle. After great care from The Owl Foundation during the first phase of treatment, they brought the eagle to our clinic yesterday for the second phase of treatment which was surgery.
Our Drs. Evan Mavromatis and Michelle Yee investigated and cleaned the eagle's wounds and found that he suffered significant trauma to his skull, where some bones were damaged or dead.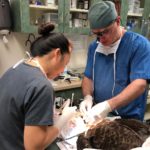 They took him to surgery and patched up his injuries. The eagle spent the night at our clinic and is going back to be rehabilitated at The Owl Foundation, which is based in Vineland Station near St. Catharines, Ontario.
Unfortunately the bald eagle's injuries were so significant that even with the surgery and a successful recovery, he will not be re-released back into the wild as he won't be able to fly at high altitudes again because of the dead bones in his skull.
Depending on his recovery and temperament, this bald eagle may be able to be a permanent member of a conservation organization to help educate people about wildlife. To see more photos of the eagle's time at our clinic, check out our Pinterest board.
The Owl Foundation is a charitable organization that helps rehabilitate injured and orphaned owls and occasionally other raptors so they can be released back into the wild where they can survive on their own. Our veterinarians and staff volunteer their expertise and surgical services for The Owl Foundation.
Please click here to find out more about The Owl Foundation and how you can help.