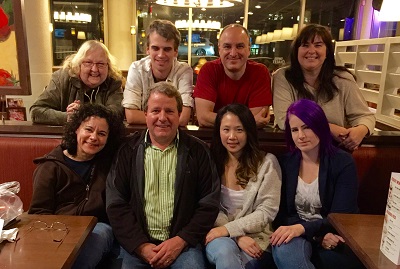 It's a melancholy day for us at The Links Road Animal & Bird clinic. Our Dr. Michelle Yee is leaving us and today is her last day. Michelle officially joined our clinic in October 2014, shortly after graduating from the Ontario Veterinary College in Guelph and after spending many weeks volunteering her time with us.  Michelle spent the past year filling a maternity leave position for Dr. Hanadie Nur and during that time we have seen her professional skills grow tremendously.
Michelle wanted to share her thoughts of her time at our clinic in her own words:
"It is with a heavy heart I say goodbye to The Links Road Animal & Bird Clinic. I cannot believe how fast a year and some odd months went by. To say I was lucky to have worked at this clinic would be understatement. I had the opportunity to work with all creatures, great and small, furry, feathered and scales alike. I'm grateful for the wonderful mentorship and endless support that has been shown to me; it has helped me to grow and continue to strive to be the best veterinarian I can be. Thank you to all the staff at the clinic, you have become dear friends and thank you to the clients and their companions, you have all left permanent marks in my heart. Now onto the next adventure!"
– Dr. Michelle Yee
Michelle, having you as part of The Links Road Animal & Bird Clinic family has been a true joy for all of us. You effortlessly forged genuine personal and professional connections and you will be missed not only by our staff but also our clients. It was a real honour and privilege of having you with us at the dawn of what we know is going to be a very successful career in veterinary medicine.