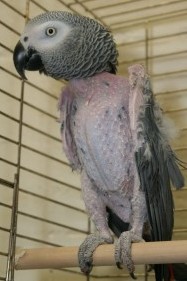 Behaviour concerns can be one of the most frustrating problems an exotic pet owner has to deal with.  Whether it is a screaming or feather picking bird, and aggressive rabbit, a nippy ferret or any other behavioural problem, our experienced veterinarians and staff have a unique understanding on how these different species work.  This, combined with a key understanding of the physiology and habits of these exotic pets, makes us very capable at investigating your pet's health and offering advise on how to deal with your pet's behaviour.
We will work with you at our Toronto hospital to find the best solution to your pet's behaviour and can offer many different resources, both medical and educational.  Book your behavioural consultation today!
A feather picking questionnaire can be downloaded here.  If you have not done so already, please contact the clinic to arrange a feather picking consultation.  For feather picking, the completed form is needed to undergo the consultation.