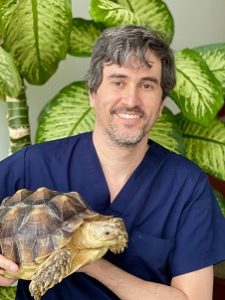 We are pleased to be welcoming Dr. Ricardo Machado to our clinic family! Ricardo graduated from Estácio de Sá University in Rio de Janeiro, Brazil in 2005. Since then, he has been exclusively involved with exotic/zoo medicine. Ricardo has worked in zoos, wildlife centres and in private practice. He also loves to teach and has taught university courses in Brazil. His main interests are anesthesia and reptile medicine – and he particularly loves turtles.
Ricardo moved to Toronto in 2015 with his wife and two cats. First he finished a bachelor's degree in Environmental Studies at York University in 2019, then in 2020 finished the Canadian Veterinary Medical Association exams to get his veterinary license to practice in North America. Ricardo joined our clinic family in January 2021.
On his days off you can find Ricardo doing visiting any one of Toronto's many parks with his family, going to the movies or cooking.