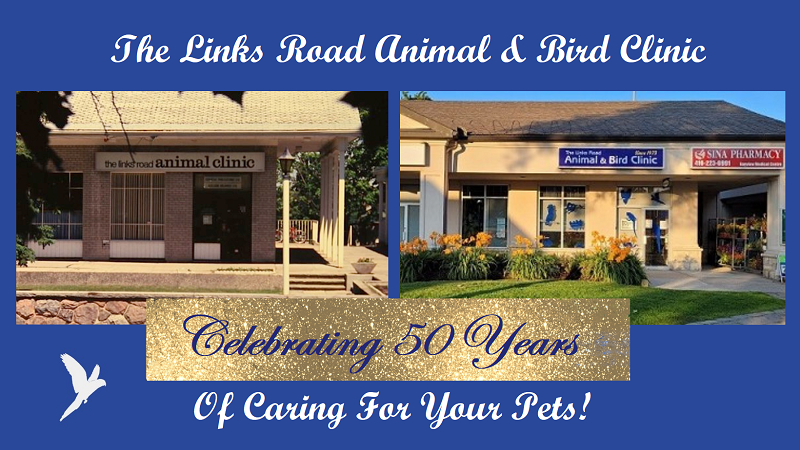 It's hard to believe that 10 years has gone by since I wrote the blog post to celebrate the clinic's 40th anniversary in 2013. And now we are celebrating The Links Road Animal & Bird Clinic's 50th year of helping your pets!
Even though the past decade has gone by in what seems like the blink of an eye, during that time, our clinic has gone through some monumental changes as part of its 50-year history.
I was just 12-years-old in 1973 when my dad, Dr. Dean Axelson, purchased this clinic and embarked on his journey in becoming Canada's pioneer in exotic animal medicine and surgery. My mom, Judy, worked for years as the clinic receptionist and when I was (much) younger I spent my time after school, on weekends and during the summers working here and doing every job imaginable.
I remember the old clinic décor, which was in the style of the era. The waiting room had uncomfortable wooden seating with gold-patterned cushions along with a glass-top coffee table – and an ashtray on top! The radiators were orange and the floors throughout the clinic were covered with brown/gold carpets. The walls were covered in a gold foil wallpaper that had a velvet pattern on it (very fancy at the time!) and the blinds were an orangey-gold colour. Check out the photo below of my mother sitting in the waiting room and you'll get an idea of what the inside of the clinic looked like back then!
Our clinic has gone through many facelifts over the past 50 years, with the latest completed in 2021. Our latest renovation started in the fall of 2020 when the COVID-19 pandemic was well underway. But this particular clinic renovation went far beyond getting rid of carpets and wallpaper.
We expanded the physical size of our clinic by expanding into the space next door that was once used as a dental office. This allowed us to add more exam rooms and a staff room.
Not only did we increase our clinic size in 2021, but we also expanded our hours to include limited emergency hours on weekends and holidays. And more hours require more staff so our clinic family expanded as well with the hiring of more veterinarians, technicians, receptionists and veterinary assistants.
Many of our long-time clients know that in addition to exotic animals and birds, we also saw a few cats and dogs back in the day. But another recent and significant change in our clinic's history was in 2016, when we started to transition our practice away from cats and dogs to become Toronto's only 100% exotic animal and bird practice. While we loved our feline and canine patients, we felt it was necessary to devote all of our resources to our exotic patients who have always had very few health care options available to them.
We have seen so many different species come through our clinic doors (too many to count!) and we want to thank our loyal clients for trusting us with the care of your animals over the past 50 years.
I also want to personally extend my many thanks to Dr. Evan Mavromatis, my business partner of 19 years (but who has been with our clinic for 24 years); our former receptionist Suzanne along with current veterinary technicians Elga and Dahlia who have each been with our clinic for more than 30 years; and our incredible staff, who over the years have shared their loyalty and passion for excellence through thick and thin.  I have always had the best team imaginable in this wonderful adventure to provide health care to the exotic animals of the GTA and southern Ontario.
Cheers to my dad, who started it all, and cheers to 50 years!
– Dr. Rick Axelson
(From left to right: Dr. Rick Axelson shortly after graduating from OVC in 1987; Dr. Dean Axelson and his wife Judy Axelson (Rick's father and mother) with a ball python patient; Judy Axelson in the original décor of The Links Road Animal & Bird Clinic.)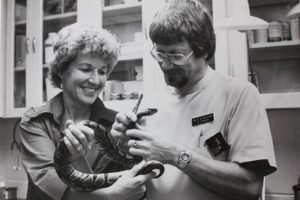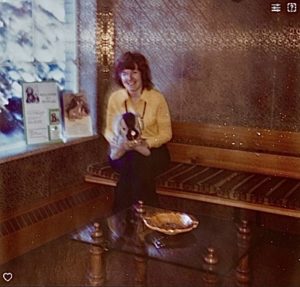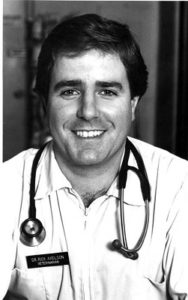 Stay tuned…more photos coming soon!
Please click here to read the 40-year anniversary blog post.