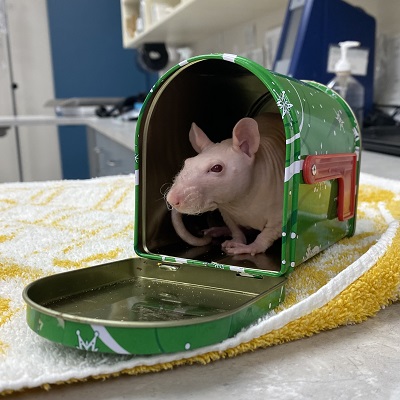 Did you know that April 4th is World Rat Day? So there is no better day than today to share with you the story of Quasimodo the hairless rat.
Quasimodo's tale begins in February when our receptionist Kacey was visiting a pet store and spotted Quasimodo, who was extremely skinny and filthy while in a cage with many other rats. Kacey rescued him from the pet store in order to help him out of this dire situation.
Kacey brought him to our clinic so he could get some medical care. Our Dr. Melanie Vaughan examined him and found that Quasimodo had a respiratory infection, three different parasites and his skin was in such terrible shape that our veterinary technician Dahlia spent a long time cleaning off the dander and dirt that was stuck to him.
But this was not the end of his medical issues as Kacey noticed that Quasimodo could not find his water bowl and repeatedly bumped into the walls of his hospital cage. She suspected that Quasimodo was blind.
While Quasimodo was at our clinic, he quickly bonded with our receptionist Clare. She says she always dreamed of having a pet rat and she fell in love with Quasimodo and wanted to give him his forever home.
After Clare brought Quasimodo home, his behaviour continued to suggest that he was blind as he would spend hours slowly walking around his cage as he mapped it out. If any changes were made to his enclosure, it would make him anxious and confused. Clare tested his eyesight and that confirmed that he couldn't see.
Clare says that since she brought Quasimodo home, he has gained some much-needed weight and is regaining his health. She says he is active, playful, and happy and his favourite activity is activity is filling his little mailbox with torn paper to make a comfy bed. He loves the company of his human family members and will snuggle up and sleep on their shoulders.
Quasimodo has found his happily ever after with Clare and we all wish him a lifetime of good health and continued happiness!
And on this World Rat Day, we invite you to check out our blog posts from June 2015, June 2018 and January 2020 when we featured rats as our Animal of the Month. You will see that rats are amazing animals and make wonderful companions!