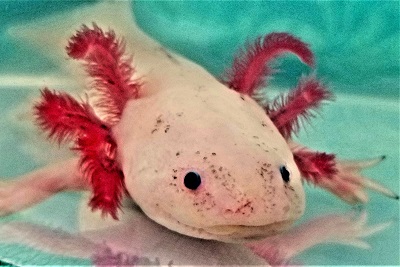 It is time to say goodbye to November and the axolotl our Animal of the Month. We have full confidence that everyone who was following our Animal of the Month feature on Twitter @ExoticPetVets can now correctly pronounce "axolotl." But if you missed our tweet on how to pronounce the name of these amazing salamanders – or any other of our tweets – here is a summary that you can use as a reference any time. Did you know?:
They may look like they are part fish and part reptile, but axolotls (Ambystoma mexicanum) are neither fish nor reptile. Axolotls are large salamanders and all salamanders are amphibians.

Axolotls are part of a group of amphibians known as mole salamanders, which is a group of about 30 species of salamanders under the genus Ambystoma in scientific classification and all are endemic to North America.

So how do you say "axolotl" anyway? Well, the answer depends on whether you mispronounce it English – as most of us do – or say it correctly in the language from which the word originates.

"Axolotl" is a word in Nahuatl, which is an indigenous language of Mexico and the language of the Aztecs.

When the Aztecs started settling in the Valley of Mexico around the year 1300, they came across large salamanders living in the lake surrounding their newly settled capital. They named these salamanders "axolotl."

In Nahautl, the letter "x" is pronounced as "sh" and the letters "tl" put together have the sound of a soft "t" in English. So in Nahautl, "axolotl" is pronounced ah-SHOH'-loht.

The word "axolotl" is the same in English, but most English-speakers mispronounce it as AK'-suh-lawt-uhl.

Please take a look at this comprehensive video from archaeologist

Kurly Tlapoyawa

who provides an excellent guide on how to pronounce axolotl correctly.

From our human perspective, axolotls have a friendly and somewhat cartoonish appearance.

From tip to tail, adult axolotls can be as big as 12 inches (30 cms) in length. They have short stout bodies with short legs and a long tail. Four long finger-like toes are on their front feet and five are on their hind feet.

One of the most distinguishing physical characteristics of axolotls is their large heads, which can appear even larger thanks to the three feathery gills protruding from either side.

Another distinctive physical feature is the axolotls' wide mouth which is slightly upturned, making them look as if they are perpetually smiling.

Axolotls are commonly seen as being mostly white, light pink or other light hues, but these are colours artificially created by humans through selective breeding.

The natural colour of axolotls in the wild is darker than what we typically see in captivity. They are brown or a dark olive colour with black mottling and gold speckles. Their underside is lighter in colour.

Axolotls in the wild have the amazing ability to alter the colour of their skin either a few shades lighter or darker depending on their surroundings in order to camouflage themselves.

Wild axolotls have pigment cells in their skin called melanophores. By changing the relative thickness and size of their melanophores, they possess a limited ability to change the shade of their skin.

It may not be the lambada, but axolotls have their own dance of love when they breed. The male and female will nudge each other in their genital region (cloaca) as they move about in a circle.

The male axolotl will then move his body in what some describe as a "hula dance" of sorts before releasing a spermatophore, which is a capsule that contains his sperm. The female will then pick up the spermatophore with her cloaca.

A few hours after fertilization occurs internally, the female axolotl will deposit hundreds of eggs in the water on plants or substrate. The eggs take about two weeks to hatch and the hatchlings are independent from birth.

It's believed that axolotls in the wild breed only once a year between March and June as water temperatures start to warm along with the weather. It takes about a year for axolotls to reach sexual maturity.

"Arrested Development" – clever TV sitcom or phrase that can apply to axolotls? It's both! Axolotls are unusual salamanders in that they're paedomorphic (a.k.a. neotenic), meaning when they reach adulthood, they retain characteristics from the larval stage.

Their fin-like tails, wide heads and famous feathery gills are all physical characteristics of the axolotls' larval stage which are all retained into adulthood.

Even though axolotls develop lungs, they use their external feathery gills to help them breathe underwater. Unlike many other salamander species, who live on land either part or all of the time, axolotls spend their entire lives in the water.

Axolotls can live an average of between 10 and 15 years. In captivity with proper care, they can live up to 20 years.

Wild axolotls are found exclusively in Mexico. And even within Mexico, their original range was small – and currently is a fraction of its original size.

Historically axolotls have been found only in Lakes Chalco and Xochimilco, which were high-altitude freshwater lakes in the area of modern day Mexico City. Both were endorheic or terminal lakes, meaning they didn't flow into other bodies of water such as rivers.

In the 1970's axolotls suffered a devastating blow to their wild population when Lake Chalco ceased to exist after humans completely drained it in order to stop occasional flooding.

Also drained to control flooding, Lake Xochimilco exists today as a shadow of its former self – it is now just a 170-square-kilometre series of canals. These canals are now the only place in the world where axolotls exist in the wild.

Whatever remains of the wild axolotl population is being assaulted on multiple fronts by human activity – both past and present.

All amphibians have permeable skin which help them breathe. What is not helpful to axolotls, who live exclusively underwater, is living and breathing in heavily polluted water. That is the reality of their lives in Lake Xochimilco.

Researchers say wild axolotls are threatened by pollution from various sources – including, but not limited to – treated wastewater from a local sewage plant, urban development, agricultural runoff and garbage.

When rain storms hit the area, things get much worse for wild axolotls. That's because Mexico City's sewer system overflows and releases untreated human waste into Lake Xochimilco.

And then there's the noise pollution. Every year millions of people travel along Lake Xochimilco's canals on party boats, which feature music, food, drink and merriment. Researchers say noise pollution causes stress for axolotls.

Axolotls are also under threat from invasive species. In the 1970's and 80's, tilapia and Asian carp were released into Lake Xochimilco in an attempt to create a fishery to provide food for the local people.

The tilapia and Asian carp feast on axolotl eggs and juveniles, which prevents the axolotls from becoming adults and increasing their numbers. They also compete with axolotls for food.

Most people won't eat the fish from Lake Xochimilco because the water is so polluted. The number of fishermen has also dropped over the years, allowing carp and tilapia numbers to grow and further threaten axolotls.

Agricultural runoff has turned Lake Xochimilco into a eutrophic lake – meaning that the runoff's nutrients have caused an explosion of plant life, which is choking the lake and depriving axolotls of oxygen.

Axolotls are also losing their natural habitat due to climate change-fuelled drought combined with Mexico City's increasing population, which is creating a water shortage. So much water is used by people that the natural aquifers have no time to fully replenish.

Researchers say the two biggest threats to wild axolotls must be immediately addressed in order to give them a fighting chance against extinction – the threats of invasive fish and pollution.

While axolotls in the wild are facing the real possibility of extinction, their numbers are abundant in captivity – both in the pet industry, but more notably in the research community.

Axolotls are a biological marvel. They have the unique and seemingly miraculous ability to regenerate not only their tails and limbs, but other body structures including organs, spinal cords and the front parts of their brain.

Axolotl bodies also have the ability to accept transplanted organs – and even heads! – without rejecting them. They have also been instrumental in spina bifida and thyroid hormone research.

Rapid cell growth allows axolotls to regenerate their various body parts. Rapid cell growth is also associated with cancer. But, also miraculously, despite this rapid cell growth, axolotls are extremely resistant to developing cancer.

Studying how axolotl cells work can help researchers discover ways to help humans recover from catastrophic injuries and prevent or stop cancer in its tracks.

While the numbers of axolotls in laboratories are robust, they are an inbred population. Most of them can trace their lineage back to just 34 axolotls who were taken from Mexico to France in 1864.

An inbred population makes axolotls not only vulnerable to disease, but there is concern that the lack of genetic diversity may also have a negative affect on the axolotls' ability to regenerate their body parts.

Decades ago, tiger salamanders were bred with some captive laboratory axolotls to add some diversity to the gene pool. So nearly all axolotls used in research today are actually part tiger salamander.

Axolotls are carnivores and in the wild will eat anything that can fit into their mouths – including, but not limited to – small fish, molluscs, worms, insects and tadpoles.

Wild axolotls were once the top predators in their natural environment. But that changed when humans introduced Asian carp and tilapia into Lake Xochimilco, throwing the ecosystem off balance and turning predator into prey.