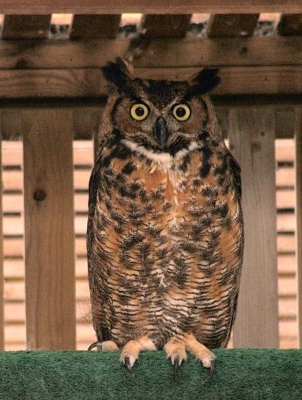 Saved from what would have been a certain death, Bella the great horned owl is now back home in the wild.  But Bella's return to the wild comes after a long road to recovery and a collaborative effort by many people who did so much to save Bella.
Her story begins in Belfountain, Ontario, northwest of Toronto. She was found on the ground by several Belfountain residents in late October.  Bella was severely injured, starving and dehydrated.  One of the people who found Bella was Tammeron Karaim.  Together with her mother, Gratia Hillier, they drove Bella more than 100 kilometres to The Owl Foundation in Vineland, which is in the Niagara region.
Annick Gionet Rollick, a zoologist with The Owl Foundation, says when Bella arrived at the facility Bella was way too thin having lost about 35 per cent of her body weight. Both of her feet were also infected making it impossible for her to catch prey. How both of her feet became injured is a mystery, but it's believed Bella may have been having a hard time finding food and in a desperate attempt to get a meal, she may have tried to pick up an animal who was too big for her to handle (perhaps a skunk) and the animal may have attacked Bella's feet, causing the injuries.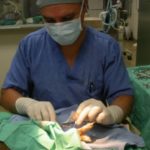 They gave her fluids and antibiotics and while Bella grew stronger, her right foot was not responding to the medication and she was brought to our clinic in early December for surgery. Our Dr. Evan Mavromatis flushed out the foot injury to clear out the infected tissue. Unfortunately, one of Bella's toes was still being attacked by bacteria and had to be removed.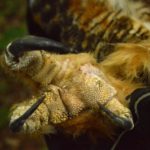 Bella was brought back to our clinic later on in December and Evan amputated Bella's infected toe. Normally, owls have four toes which they need for perching, catching and killing their prey and the worry was Bella may not be able survive on her own in the wild because she now had only three toes.
For months, the staff at The Owl Foundation worked hard to rehabilitate Bella with the goal of releasing her back into the wild. All the while Gratia checked in on her progress regularly and updated the community of Belfountain. Normally, The Owl Foundation doesn't assign names to the owls they are rehabilitating, but Gratia was insistent that this great horned owl have a name – and she named her Bella.
Finally, the day came. Saturday June 13, 2015 – this was the day Bella was scheduled to be released in the Belfountain Conservation Area.  With all of the rainy days in June this year, it was touch and go as to whether Bella's release would go ahead or not. But the weather was clear and at dusk, with about 200 excited area residents looking on, Bella was released and flew into the trees and back to freedom.
Bella's return to the wild was a large collaborative effort with so many people playing a crucial part in her rehabilitation and release. She couldn't have done it without each and every one!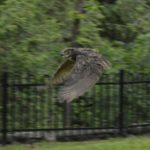 Bella flies to freedom!
The Owl Foundation is a charitable organization that helps rehabilitate injured and orphaned owls and occasionally other raptors so they can be released back into the wild where they can survive on their own. Our veterinarians and staff volunteer their expertise and surgical services for The Owl Foundation. Please click here to find out more about The Owl Foundation and how you can help.