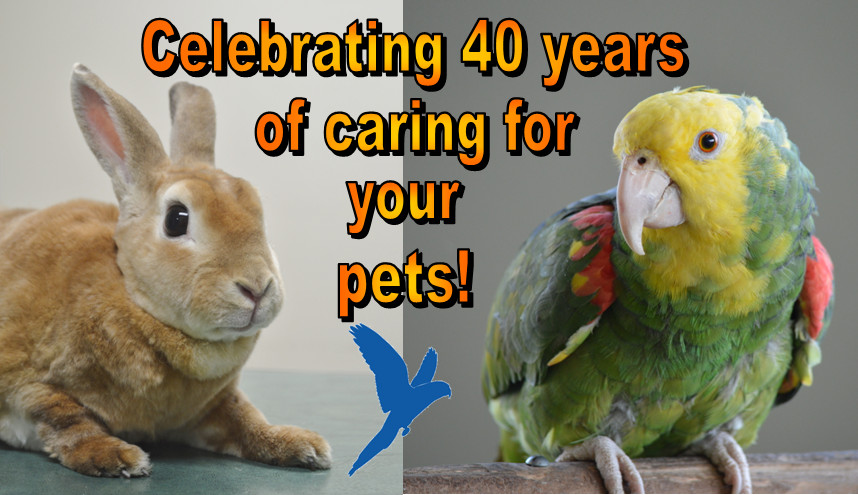 Wow, this is the 40th year for The Links Road Animal & Bird Clinic! I was just thinking back over all the years. My dad, Dr. Dean Axelson, purchased the clinic in 1973 when I was 12 years old (you do the math)! This is when he really started to (sorry for the pun) "spread his wings" and flourish as a Canadian exotic animal medicine and surgery pioneer. My mom, Judy, was working as the receptionist. I remember as a kid, dad coming home and telling us over dinner about all of the neat animals he had seen that day: monkeys, birds, bats, reptiles, huge 80-pound tortoises, alligators, big cats, injured wild birds and mammals, and all sorts of small pet mammals. Some animals that, and for good reasons, you are prevented from even owning nowadays.
I worked here a lot as a kid – after school, on weekends and some summers. In the "old days," as a youngster, I would sit at a typewriter and type medicine labels, over and over and over again. There were no printers and label makers. I cleaned cages, fed animals, mopped floors, did reception (can you imagine little Ricky answering the phones?!), groomed animals, helped in office calls and surgeries and I have probably changed every light bulb in the entire building at least four times. As the current owner, partner and senior veterinarian, I realize that I truly have "climbed the corporate ladder" (so to speak) from the ground up.
I am very proud of The Links Road Animal & Bird Clinic and am proud of our loyal staff of so many years. Suzanne – 29 years, Elga – 25 years, Dahlia – 19 years, me – Dr. Rick Axelson – 26, my partner Dr. Evan Mavromatis– 14 years, our associate veterinarians Dr. Hanadie Nur – eight years and Dr. Gill Park– two years and of course, the wonderful support staff, many of whom have gone on to follow their own careers as veterinarians and veterinary technicians. That represents a lot of years of experience, knowledge, and wisdom accumulated under our roof.  I am also proud that we can serve the wonderful, and sometimes eclectic, exotic pet community of the Greater Toronto Area and parts of southern Ontario as a full service exotic animal referral centre.
Thank you to all of our clients (some of whom remember my dad, my mom and me here as a kid) and their pets (some of whom are older than I am).
Wow, 40 years!
Cheers to you dad! I'm sure you're watching and smiling as we pass on your legacy!
– Dr. Rick Axelson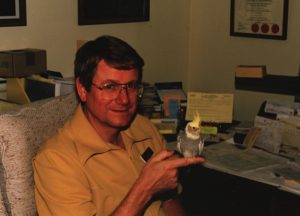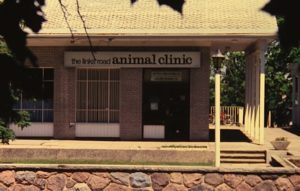 Dr. Dean Axelson (left) and the old exterior of our clinic (right).